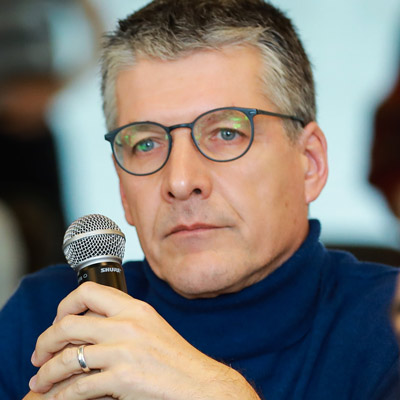 Country: Germany
Languages: English, German, French
Based in the south of Germany, John is CEO of the Bavarian production company 'Penned Pictures'. A writer and producer of features, series and documentaries, he began his involvement in the film industry by participating in the development and production of a number of shorts, including the award-winning drama, 'Fragile Storm', starring Lance Henriksen, before venturing into the production of features. Among his current projects as a producer, he is developing the feature 'In a Heartbeat', the authorized biopic of British singer/songwriter Chris Norman and his rock band Smokie, and has recently completed post production on the New Zealand based documentary 'There's a Hole in My Bucket', narrated by Benedict Cumberbatch, and involving Oscar winning director, Peter Jackson, and actors John Rhys-Davies and Billy Boyd, as well as Oscar winning SFX/VFX studio, Weta Workshop.
As a screenwriter, John won the Louis Mitchell Award for his thriller 'Chilling Truths' at the 2015 Action on Film Film Festival in Los Angeles. In 2016, his Tokyo based drama feature 'Mujo' was one of six international projects chosen for the Capalbio Future Storyteller Lab in Italy, with mentorship from Colin Trevorrow, director/writer of Jurassic World, before being subsequently selected to represent the Lab at the MIA International Audiovisual Market of the 2016 Rome Film Festival. Boasting a rich international cast, 'Mujo' is slated for production in Autumn 2019. More recently, John's historical Chinese drama 'Torn Silk' was one of eight European projects selected for the 4th Sino-European Project Lab, an immersive international workshop and think-tank for projects suitable for Sino-European co-production, held in both Beijing and during the 2019 Berlinale film festival.
Another of John's interests, the exploration of innovative story formats and cross-media technologies, resulted in the development of the German/US transmedia mystery series 'Lostfriesland'. Destined for the mobile generation, it explores interactive storytelling through the use of multiple media platforms, and VR technologies, immersing the audience in the story. The unique concept aroused such interest in Germany that the German TV channel NDR filmed the 'making of' the proof of concept teaser.
Company: PENNED PICTURES
Business Phone: +49 160 9287 1831
Business Email: johnh@pennedpictures.com
Business Address: Karwendelstr. 10.
City: Penzberg
Business Zip/Postal Code: D-82377
Country: Germany
Website: pennedpictures.com/
Languages: English, German, French
Year Joined: 2018
Based near Munich in Bavaria, Penned Pictures develops, packages and produces European and International projects for global theatrical, television, and digital-delivery (VOD) markets. Looking beyond the simple media of film, we seek to develop IPs that correspond to the full spectrum of entertainment and media supports, including comic books, animation, transmedia and VR.
Founded in 2018, Penned Pictures is headed by Josef Brandmaier and John Hörnschemeyer. Along with our sister companies, Uni Finance Media, Toruk Media and John Doe Agency, we are able to offer services in the domains of project development, financing, production and merchandising.
In order to facilitate the development of Sino-German co-productions, Penned Pictures is also actively cultivating strategic partnerships with members of the Chinese film industry, assisted by a 'China-specific' team with solid experience of both the Chinese film industry and cultural exchanges between the two countries.