One of the core principles of our organization is connecting filmmakers to one another across time zones, cultures, and projects. We strongly believe that these connections, fueled by the common need to tell stories, can expand both business and mind.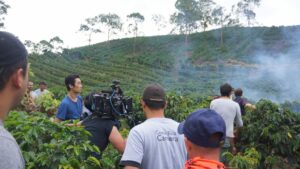 As many producers know, finding quality and trustworthy production services for an international shoot is often a challenge.
Yet just several weeks ago, members Brian Bonilla and Jean Sharony demonstrated the power of what our members can achieve together.
Knowing he had to head to the coffee plantations in Costa Rica for a shoot, Jean from Whiskey Films (with offices located mainly throughout Central & South America) connected with Brian, a local IQ member in Costa Rica, who was able to provide him with production services from Fulfierros for the project.
"We had 2 great days of shooting in "Valle del Orosi" in the middle of the coffee
plantations in Costa Rica. The client was from Korea and the big challenge was, beside the production, to understand different cultures, food, language…and of course a totally different way of shooting. But we did it, and it turned out excellently!" – Jean
View the the Barista Rules commercial here:
Production Company: Ozcam Australia / Korea
Director: Soo Kim
Location: Valle del Orosi, Costa Rica
Production Service: Whiskey Films / America Cine
Exec Prod: Jean Sharony
Local Production: Fulfierros
Local EP: Brian Bonilla