As the Executive Director of IQ, I enjoy communicating daily with members all over the world, whether it's our President Vern Oakley welcoming new Shanghai member producer Michael McDermott on gotomeeting, responding to an email query from South America about pop corn art directing, or forwarding info on our social media about a lens for sale in India. While the use of technology in communications facilitates my work, a meeting in the real world comes as a treat. As I was passing through Paris, Laure Cousin, of Tulipes, made the time to have me over. I visited their beautiful offices in upscale West Paris, and met their dynamic team. I got a glance of the unique projects they put together in their editing suites. And, not unexpected in gourmet France, a delicious lunch in the outdoor patio where we got to discuss IQ, my favorite subject!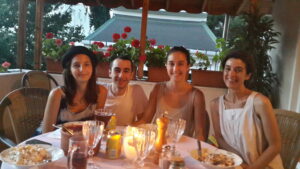 My daughter Alma also got treated to IQ generosity. She attended a film camp in Turkey (a future IQ member?) and had a couple of days between the end of camp and her flight back. I was concerned about my 16 year old daughter knocking around in Istanbul, and IQ member Filiz Emre offered to host her: Alma in her own words admitted to being totally spoiled, with visits to landmarks and islands, and many delicious meals! She also met Filiz' delightful son Can and daughter Tara.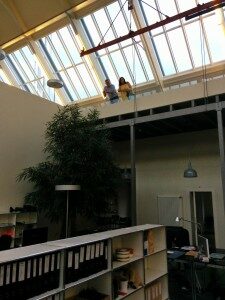 A short trip to Zürich allowed me to knock on the door of several of our members there. I had a very interesting lunch with PC Fueter, one of our legendary IQ members. Not only did he win an Oscar for the Condor film Journey of Hope, but he was IQ president and served on the Board for many years, so it was a treat to be able to hear his views on IQ.I was also able to meet with Kristian Widmer at the spectacular Condor Film office. He took over the company from PC, and has continued assuring its success.
Finally, Peter Reichenbach welcomed me at C Films. He had a treat for me: attending the premiere of his latest film, Der Koch, directed by Ralph Huettner, and featuring Hamza Jeetooa. This is a fun and highly original film about a Tamil asylum seeker who puts his love of food to all sorts of uses!