IQ Board Member Rudolph Isler shares with us his unexpected, emotional, yet rewarding journey as producer of his latest documentary, Dying to Live. Rudolph currently runs Playground Media Productions based in Zurich, Switzerland.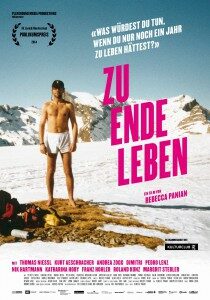 Back in 2012, I received a phone call from a young woman. I was working as vice-president at the Austin-Healey Club of Switzerland at the time, and the young woman explained that her father's birthday wish was to spend a day driving in a Healey. For those not familiar with cars, Austin-Healey is a vintage British sports car produced in the late 1960's renown for its design and engineering.
In the summer of that same year, I took him for a spin around the Swiss Alps, also meeting his wife and daughter for lunch before eventually driving him back home.
What I did not know was that he suffered from a terminal cancer. About a year passed before Rebecca called again to inform me about the death of her father, and that she – studying film in Zurich – had the intention of producing a documentary about the topic of death. She had already shot several interviews that were going to be used in the film.
When she sent me the work she had already done, I was more impressed by her talent as a director rather than the actual topic, but she convinced me to produce the documentary. It was the first time we ever embarked on a project like this.
After spending weeks filling out forms and applications for financial support, we finally had a breakthrough when Swiss Television agreed to co-produce the movie for television. We later received interest from the Zurich Film Festival and a Swiss cinema distributor after showing a rough-cut of the documentary (which meant we had to find even more funding to produce a special cinema and festival version- not an easy task).
As of now, Dying To Live was shown at the Zurich Film Festival in 2014 and won the Audience Award. It is currently showing twice at the Solothurn Film Festival in Switzerland. The cinema premier is on April 9th, 2015 and will be aired on Swiss Television in August. Watch the Trailer here.
Written by Rudolph Isler