IQ regroups production company owners from all over the world. At our conferences, and throughout the year, collaborations arise, minds meet, productions get sparked. In a similar model, IQ Swiss member Peter Reichenbach brought together exceptional talents for his film Night Train to Lisbon: Swedish director Bille August, British actors Jeremy Irons and Charlotte Rampling, German actor Bruno Ganz. The result is a film that goes straight to the heart of its audience and is enjoying box-office success. While the film is soon to be released in North America, we will host a sneak-preview at IQ's 2013 Montreal conference, and can't help but see the parallels to our own crossing of borders this September.
Night Train to Lisbon begins in Switzerland when Latin professor Raimund Gregorius stops a Portuguese woman from jumping from a bridge. After the encounter he discovers a book by Amadeu de Prado describing the resistance against the Portuguese dictator Salazar. Drawn into the history behind the book, Raimund leaves his country to explore the streets of Lisbon and the mysteries he has uncovered.
Peter Reichenbach shared with us the story behind the production of Night Train To Lisbon, produced by his company C-Films.
What was the process to put the coproduction together?
It took six years to put Night Train to Lisbon together. I developed the script before Bille August came on. I bought the rights to the novel and then it took over two years to write the script. When Bille August got on board, he brought his own ideas and we did a rewrite. Then we went into casting, packaging, and financing. The financing went well, except one of our investors was not able to deliver the funds he had committed to at the last minute. The whole thing tumbled down an hour before signing the contract. We had to find financing to replace this investor. World Sales K5 Intl. came in, and we had funds from Germany, Switzerland and Portugal, as well as Media and Eurimages. That's a lot of work. We also got presales for Benelux, Germany, Portugal, and Switzerland.
There are some territories that presell well. It depends on the film. Some territories prefer to wait. It helps if you know the distributors and they know you. It's a personal business; they have to trust when you come with a product. If they know you, your track record, and the quality of your work, they're more likely to invest.
How has the film done so far?
We're happy the film is a big success, it's done very well in Germany, Austria, Switzerland, and in the Netherlands. Wrekin Hill bought the US rights, just before Cannes. It will most likely be released in October or November of this year. We also did well in Italy and Israel. We targeted the film toward the older and more intellectual audience, which is a less competitive market. They loved the film because of its historical quality and excellent production value. The cast is amazing, with top-tier actors like Jeremy Irons, Bruno Ganz, Christopher Lee, Martina Gedeck, Lena Olin, Tom Courtenay and Charlotte Rampling. Bille August, the director, excels at this kind of movie. The critics were more reticent: no shaky camera, no long sex scenes, and a more traditional style—critics don't go for that! The film is romantic in a very subtle way, never forced or formulaic.
What was the best moment during production?
When we lost our investor I had to call Bille August. We wanted to shoot in the fall and it was March. I was hoping we could find a solution. I asked if he was still on board. He replied, "Of course, what do you think! I know how difficult it is to put a film together. Don't worry about me, I'm on board."
This was a beautiful moment for me. As a producer, this is was the best experience I've ever had due to Bille August. He's such a wonderful person. He's got a warm, caring personality, never defensive or aggressive, he's the best thing that can happen to a producer. The cast and crew worked like a big family because of the tone he set. Melanie Laurent said to him at the wrap party, "You know it's really unfair what you do to the actors—how can I ever work with another director after you?" He makes them feel like they are the only actors he's interested in, that he never considered anyone else for the role. And that's great for the actors' confidence.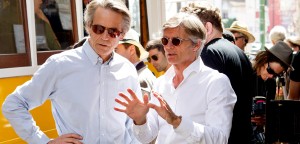 Jeremy Irons and Bille August
We never had problems with Jeremy Irons, who was such a good sport. Whenever Jeremy was needed for PR, he was always ready to do it. Jeremy came for the premiere in Switzerland and we became friends. I think he realized how much we cared about the movie. One agent told me, "Your problem is that you care more about the movie than about the deals." The actors feel that we care about the film, and it changes their attitude. Jeremy's so talented and intelligent. Bruno Ganz enjoyed some big scenes with Jeremy—two giants facing each other. Charlotte is one of my all time favorite actors, I fell in love with her 30 years ago and I'm still in love. When you're casting at that level you can't have a second-class actor facing someone like Jeremy, and our casting director Jeremy Zimmerman assembled an all-around cast of the highest level.
Was shooting a historical film challenging?
Lisbon was a good place to shoot a historical film. There are places in Lisbon that have hardly been renovated. Still, it's always more difficult than one thinks it's going to be. We had the same architect as The House of Spirits, and he was fantastic. He grew up during that period and he's from Lisbon. The whole crew was excellent. The DP and the camera crew were from Switzerland, but most of the crew was German and Portuguese. 80 percent of the movie was shot in Portugal, with only the beginning shot in Switzerland.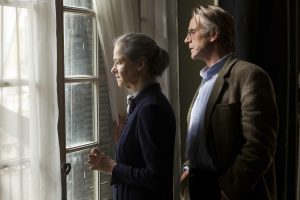 Charlotte Rampling and Jeremy Irons
What's next on your plate?
We have six films to be released within the next twelve months. Two releases this month, with more in November and January. We also have a TV series together with Denmark, Belgium, Germany, and Austria that will start shooting mid-October. We're also producing a TV movie for a police series ("Tatort") for Swiss Television and ARD in November.
And I will soon start as a professor at the University of Luzern. I'll be teaching a seminar about the influence of movies on the perception of history: how World War II movies have shaped the conception of that war in many countries, for example. Teaching is a good relief from the intricacies of producing features and TV series!