IQer Artur Talvik recently won the elections to become member of the Estonian Parliament. Running for a small, recently founded party, the Free Party, his election was an unexpected success.
As a new comer on the scene, he got nearly as many voices as some well established politicians from the two major parties. Artur orchestrated a very strong campaign with very little funding for posters or commercials, and he is now a main member of the Free Party's negotiation team. Although his win means a temporary break from filmmaking, we could not be prouder to see him take on this new and exciting opportunity. Artur will be able to apply to government issues the vision and creative thinking he has developed in filmmaking.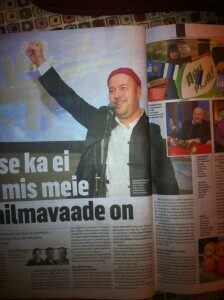 Originally from Tallinn, Estonia, Artur is a graduate from the Drama School of the Estonian Academy of Music and Theatre, and has since produced and directed over 200 commercials, in addition to TV shows, feature films, and documentaries. He has been a member of IQ since 1999.
Artur worked closely with New York IQ members James Tusty and Maureen Tusty on 'The Singing Revolution', a theatrical feature film released in 2006 about Estonia's historic mass-singing demonstration that eventually led to their independence. Boston IQ member Bestor Cram was also involved in the film in formulating the creative approach. IQ would like to congratulate Artur on his new position and wish him great success in the Estonian Parliament.