IQ welcomes its newest member, Salim Amin, whose specialties include documentaries, news, and current affairs. Based in Nairobi, Kenya, Salim has been on the forefront of the burgeoning film and news industry in Africa. IQ looks forward to benefiting from his knowledge, experience, and insight as he is the first member to represent the African continent.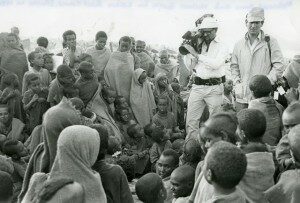 Salim is the son of famed photojournalist Mohamed "Mo" Amin (pictured left documenting a relief camp in Ethiopia), whose images of the famine in Ethiopia in 1984 inspired Live Aid. After his father tragically passed in a plane crash in 1996, Salim took over his company, Camerapix.
Since that time, Salim has expanded Camerapix's focus beyond photojournalism and into other media by founding two other organizations: The Mohamed Amin Foundation, which was launched to provide aspiring African journalists with the tools to tell local stories to international audiences, and A24 Media, an online media agency that connects African production resources and information to the rest of the world.
Salim says the most rewarding aspect of his work is that "Every day is something different; we are never working on the same stories, in the same country, or even on the same continent!" This appreciation for the unknown pushes Salim to continue working hard and pursuing his professional goals: "I am sure I will always find new challenges, but at the moment the foreseeable future is devoted to making us an even bigger presence in Africa. My company turns fifty years old in October this year, so I need to make sure it will be around for another fifty!"
And so far he's off to a great start. The New African Magazine recently named him one of the "50 Trailblazers under 50," alongside US President Barack Obama, Olympian David Rudisha, and MTV's Alex Okosi.
Salim is currently covering Kenya's presidential election and plans to attend the IQ 2013 conference in Montreal. For more information on Salim, please visit:
http://www.camerapix.com/
http://www.moforce.com/
http://www.a24media.com/