As many of you may know, every year IQ sponsors the One World Award, which is given by the US International Film & Video Festival to a deserving production that creates greater awareness of a worldwide issue.
Unveiled at IQ's Delhi Conference in October, this year's recipient was Joseph Conrad Rubio from "Front Row: ALS", a public affairs program produced by GMA Network in Quezon City.
With a degree in Journalism from the Polytechnic University of the Philippines, Joseph began his television career in 2004 as a researcher for the health and safety related program "Emergency". He has produced for other GMA shows which include the cultural program 100% Pinoy (100% Filipino) and the docu-drama "Case Unclosed". He became Front Row's Executive Producer and Director in 2011 and he also works as a writer, producer and editing supervisor for other GMA Public Affairs shows.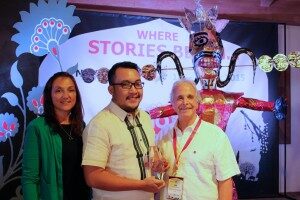 The film highlights the struggles of families caring for victims of Amyotrophic Lateral Sclerosis (ALS or Lou Gehrig's disease) in the Philippines. With a lot of recent media attention given to ALS thanks to the "Ice Bucket Challenge", Front Row used the occasion to look at the neurodegenerative disease in the Philippines.
Photo on left: One World Award recipient Joseph Conrad Rubio (center) stands with IQ President Donna Hampton (left) and International Film & Video Festival Chairman Lee Gluckmann (right).
What reporters found was not only a lack of information about the disease, but many families coping with care for its victims. You can watch the moving film on GMA network here.