Meet Eduardo Teiman, IQ's newest member, avid surfer and Director at Teiman Filmes, a production company based in São Paulo, Brazil.
While attending documentary workshops in Maine late last summer, Eduardo met longtime member Bestor Cram (who happened to be teaching one of the workshops) and who shortly thereafter invited Eduardo to join IQ. We interviewed Eduardo to find out how he got involved in production, his passion for surfing, and what the film industry is like in Brazil.
iQ: Tell us about how you got your start in the production industry. You started with some computer graphics/ 3D rendering for architects. Did this eventually transition to doing graphics for films?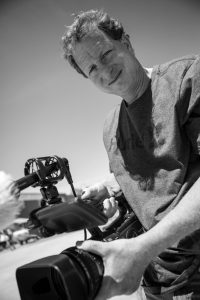 Eduardo: I studied Architecture. These were the early days of computer graphics, and CAD systems were starting to be incorporated in the field. Together with some friends from school, we started our first company, Protótipo 1.0, which specialized in 3D models and project presentations. Gradually, the still renders that we produced started to get some movement, and the presentations were turning into videos, that's how I got into the audiovisual world.
iQ: You have a deep love for surfing. How did this start? Do you also shoot and produce surfing events?
Eduardo: Yes, surfing is a big passion of mine, I've been doing it since I was a kid and have produced several Surfing DVDs over this years. São Paulo is about 2 hours from the coast, so we're able to go to the beach for the weekend once or twice a month. I also try to go on a surfing trips with friends every so often. Last year, we went to a very remote place in Indonesia, where we were living on a boat for 2 weeks, searching for those perfect waves. That's when those epic moments really happen.
iQ: Tell us about Pacific Crossing, the film you produced about a man who sailed across the Pacific Ocean.
Eduardo: This was a great project to be involved in. Beto Pandiani and Igor Bely sailed from Chile to Australia, crossing the Pacific Ocean on a very small catamaran boat with no cabin. They invited me to produce a documentary about the trip. We had a cameraman at every stop of the trip, and the sailors did an awesome job with filming themselves during the crossings. With the footage, we were able to produce 2 DVDs, and material for several TV shows.
iQ: You founded Teiman Filmes. How long have you been in business? What services do you mainly provide?
Eduardo: I did the complete switch from architecture and 3D to films about 10 years ago. At Teiman Filmes, we work with corporate, entertainment, personal videos, and some documentary projects. We provide all kind of services regarding audiovisual productions.We also work with foreign crews who want to shoot in Brazil. Our office is very well situated in São Paulo, where we have access to a lot of rental equipment houses, fixers and locations. Rio de Janeiro, the host of the Olympic Games in 2016, is very close, and we operate there as well.
iQ: What is the production industry like in Brazil?
Eduardo: In Brazil, you can find all kinds of companies. From very big and established powerhouse production houses (cinema, TV and advertising ) to an army of talented youngsters offering competent content services at a very low cost. And even with the economic troubles going on in the country, people are always optimistic down here, and there's a very active and constantly growing market going on, despite of the hard times.
iQ: Any recent projects you'd like to share with IQ?
Yes. We recently finished several corporate works. Also, a nice surprise happened when one of the main advertising agencies asked us to produce a very large 3D model with over 100 buildings in a virtual city for one of the main construction companies here in Brazil. We just got hired to do a series of short stories for one of the main NGO here in São Paulo. Pretty cool!
Skyline for Grey Advertising
Check out the Teiman Filmes reel for a glimpse of their work: