In late September/early October, Tom Locke, who has been a member of this organization since 1986, attended the IQ conference in Reykjavik, Iceland.
At the banquet on the final evening, Tom was honored with the prestigious Walter Klein Humanitarian Award, to be shared with first time filmmaker and quadriplegic Luke Anderson. Their collaboration, "Attitude & Opportunity", features an inspiring video from Luke, who Tom has been associated with the past 12 years.
The Walter Klein award, in the words of IQ founder Walter Klein, "is an annual IQ award to honor the most unselfish and effective film that measurably helps repair the world. A humanitarian award – for the IQ members who set aside time and funds to help make life better for those in distress." A perfect fit for Luke and Tom's work!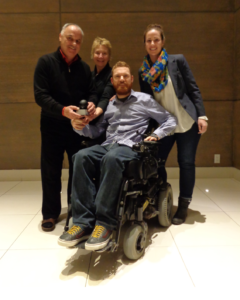 The highlight for Tom came a month after the Reykjavík Conference, when he visited Luke and his parents in Toronto. "I wish I had captured the look on Luke's face the evening I had dinner with them, when I presented him with his very own Walter Klein Award as he was named a co-recipient by the IQ organization."
Luke's commitment and hard work will result in raising awareness and creating opportunities for positive change. "I look forward to working with him in the future on accessibility for all."
About StopGap: StopGap Foundation's mission is to help communities discover the benefit of barrier free spaces and providing support to create them.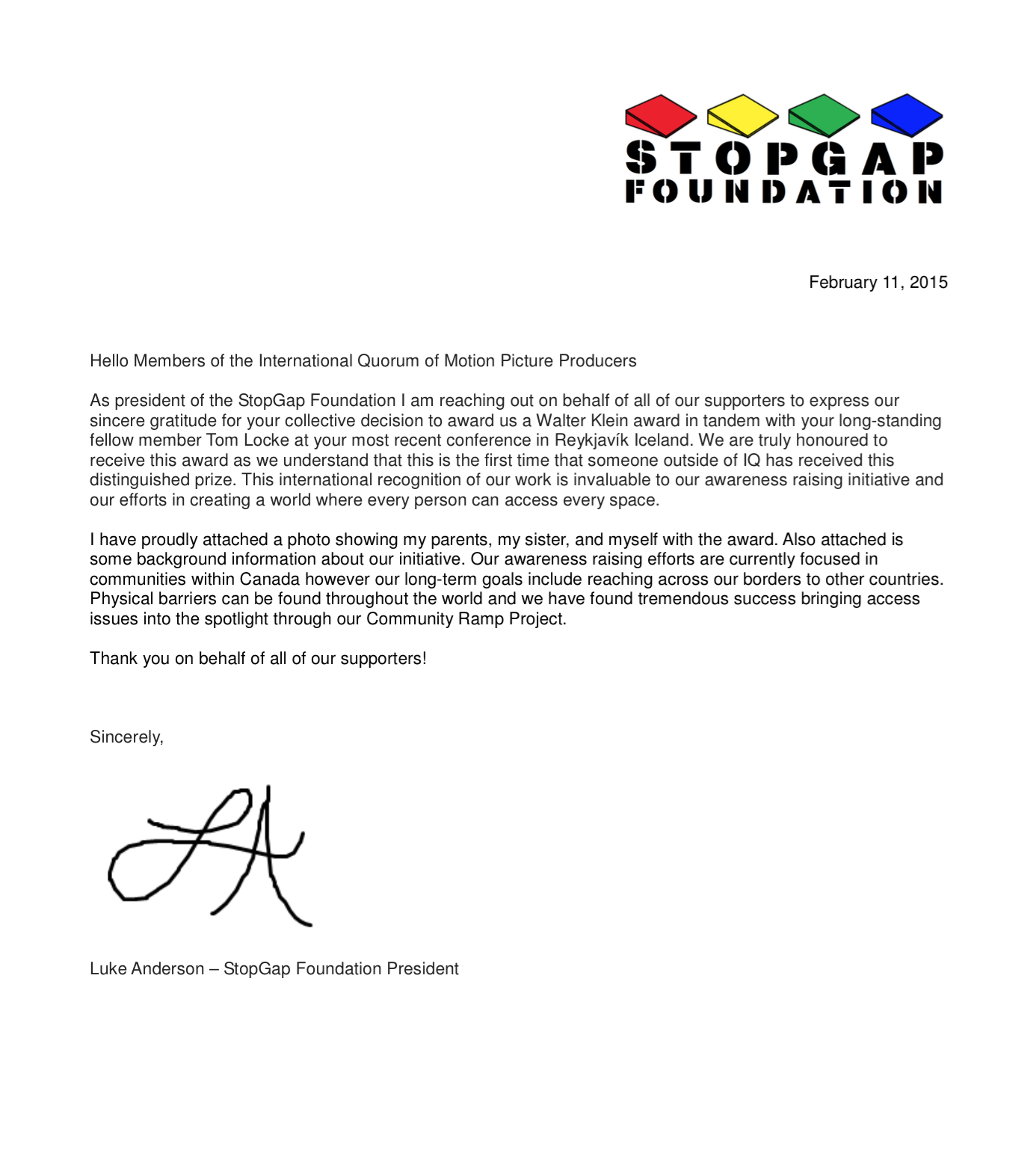 StopGap Foundation was registered as a charitable organization in October 2013, it's roots date back to the fall of 2011 as it began as an initiative to raise awareness about barriers in our built environment. StopGap's first endeavour to achieve its awareness raising goal was the launch of its first Community Ramp Project in Toronto's Junction neighbourhood. Through material donations from local hardware stores and volunteer labour from inspired community residents the Community Ramp Project provided a deployable ramp at no cost to 12 businesses with a single stepped entry. The lightweight plywood ramps were brightly coloured to attract attention and were stenciled with the StopGap website address (StopGap.ca) in order to direct those interested to learn all about the project. It became clear from the incredibly positive outcome of the first Community Ramp Project that similar projects could be launched in different communities across the Greater Toronto Area and it's huge potential to raise awareness internationally.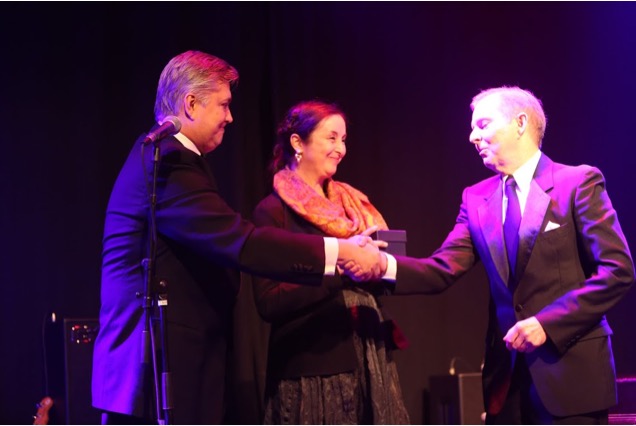 Tom Locke accepting the Walter Klein Humanitarian Award
Since then numerous Community Ramp Projects have been launched with great success in various Toronto neighbourhoods as well as smaller communities outside of the city and in different provinces. The Community Ramp Project has gained significant momentum and consequently some fantastic media attention including television and radio interviews with CBC, CTV, City TV, Global News and Canada A.M. The Community Ramp Project has also gained attention from municipal, provincial and federal political figures including MPP Dr. Helena Jaczek who spoke last year about StopGap to the Ontario Legislature at Queens Park, MP Mike Sullivan who has expressed interest in furthering the initiative nationally, Federal MP Adam Vaughan who headed the City of Toronto's Accessibility Advisory Committee, and Lieutenant Governor of Ontario David Onley.
To further the foundation's awareness raising goals, the StopGap School Presentation program was formed. School groups are introduced to the term inclusivity via the Community Ramp Project, the ramp project is used as an example of how to recognize a challenge or barrier in life and what to do to overcome it. The program dovetails seamlessly into most school board's character building curriculum. Along with The Ramp Man storybook, school presentations introduce young creative minds to the Community Ramp Project. The next generation of physical barrier problem solvers are found in schools across the country and many have found excitement in taking on ramp projects of their own.
Inspired by the incredible awareness raising efforts of Terry Fox and Rick Hansen, StopGap Foundation's goal is to bring the Community Ramp Project and School Presentation program to various communities across the country. With hopes a cross Canada initiative will help pave the way for a more inclusive society free of barriers that prevent many people from experiencing all that their communities have to offer.
StopGap Foundation has experienced all kinds of fantastic feedback from community residents, business owners, politicians, and media outlets – this feedback confirms that we are succeeding in creating much-needed conversation about physical barriers in our communities. Along with the conversation surrounding The Community Ramp Project is a general realization that a simple ramp can make life easier for everyone. We believe that this heightened awareness will influence policymakers to change current prohibitive legislation which creates a very difficult and costly process for any property owner interested in creating permanent barrier free spaces.